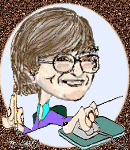 My Desk
It's sorta hard to say whether my desk is part of my den or my office, as I use a computer both for recreational uses as well as for work. But I'm telling you more about my work elsewhere, so let's keep this a little more on the personal level.
In addition to using my computer for online stuff (which
other sites do a far better job discussing), I also enjoy writing and different types of computer games.